Microsoft Powerpoint has been a staple of business presentations for decades. In this day and age, however, there are many alternatives that offer a more modern and versatile approach to presentations like Google Slides and Canva.
In this blog post, we will explore 10 great Powerpoint alternatives that can make your presentations more engaging and professional.
1. Canva
Canva is a user-friendly graphic design tool that is perfect for creating professional presentations. With Canva, you can easily create a slide presentation using their ready-made templates and designs. You can also add your own images, illustrations, and graphics according to your preference. It comes with a free and paid version; the paid version gives you access to more features and resources.
2. Google Slides
Google Slides is a free online presentation tool that offers many of the same features as Powerpoint. Google Slides is a dependable program that offers users the basics without any superfluous bells and whistles. If you prefer a streamlined approach, this might be the right software for you.
3. Apple Keynote
A great element of this program are the dynamic backgrounds with slight movements that maintain viewer engagement. In addition, you can manipulate the level of movement in the background, so it doesn't become a nuisance. Keynote gives you the ability to tailor your presentation with over 700 Apple-designed shapes.
4. Prezi
Another well-liked presentation software package is Prezi. It is easy to use, and the interface resembles PowerPoint quite a bit. The zoom reveal tool in Prezi is among its best features. You can then see the presentation virtually as a big plot map. You can then enlarge particular portions of the map to expose information that is not too visible on the larger map.
5. Beautiful.ai
This presenting tool is certainly true to its name. Scrolling through the template collection will reveal pages after pages of brilliant, basic, and skilled design. It advertises over 1 million users globally and describes itself as the "first presentation creator with design AI" on its website. This software provides users with professional designs for their content, in a manner similar to PowerPoint's design function.
6. WPS Presentation
WPS Presentation is a versatile, free slideshow editing tool that makes it easy to organize and present images, text, audio, and video in a professional way. It's a relatively basic tool, but it gets the job done without any frills.
7. Haiku Deck
With Haiku Deck Zuru, you can quickly and easily turn your ideas into beautiful presentations using artificial intelligence. Not only is Haiku Deck Basic free, but it also comes with access to over 40 million royalty-free images and dozens of professional fonts, filters, and layouts. It also has a mobile app, so you can present your decks on the go.
8. Visme
Visme is a user-friendly cloud-based platform that enables people and businesses to create and distribute narratives and dull data into eye-catching Presentations, Visualizations, Report, and other types of visual material.You can use Visme for an unlimited amount of time for free. Only a small number of essential functions are exclusive to Premium subscribers, and over 80% of all functionality is free.
9. Powtoon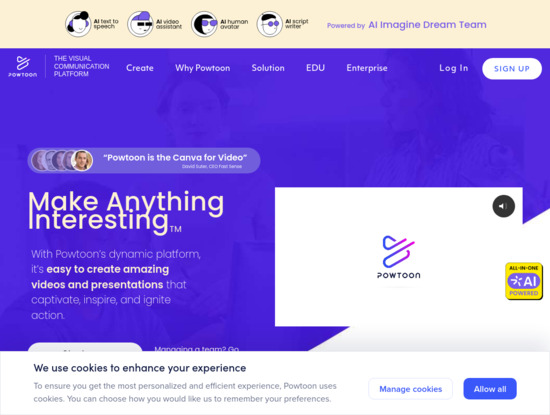 Powtoon is an software that allows users to create animated presentations and videos, stored on the cloud. Powtoon is a combination of "Powerpoint" and "Cartoon" and it gives users the ability to create animated presentations in a matter of minutes. It's an innovative way to engage your audience, and it's perfect for those who want to add a bit of levity to their presentations.
10. Pitch
Created with the modern workplace and team in mind, Pitch is improving how knowledge is shared and presentations are made. Pitch functions the way that people do—with colleagues, in real-time, either online or offline, and across devices—with a focus on efficient workflows, real-time communication, and accessible design elements.
Final Thoughts
While PowerPoint is certainly the most popular presentation software on the market, it is not the only option. There are a variety of different programs that offer unique features and benefits. Depending on your needs, one of these alternatives might be a better fit for you. With so many options available, there's sure to be a presentation tool that's perfect for you.